This article by Jackie Pilossoph was first published in the Northbrook Star
The whole point of life is that it's supposed to be enjoyed, so why do we settle for getting by and getting through it? We need to have fun and enjoy it!
That's something Northbrook therapist, Dr. Sarah Allen, tells her patients, who she said are typically women in their 30's, 40's and 50's suffering from issues that stem from anxiety.
"People are so consumed by the stress of work and children that they forget what they're here for," said Allen, who is a Licensed Clinical Professional Counselor. "Life can throw challenges, but if you are resilient, you can take those challenges head on, and the key to having resilience is looking after yourself and your own needs."
Dr. Allen grew up in Portsmouth, England, and said she knew she wanted to help people at a very young age. She attended both undergraduate and graduate school in London, and as part of the curriculum, she worked in the maternity ward of a London hospital, an experience she said made her feel connected to women.
"I saw a need that wasn't being addressed," said Allen, who ended up being one of the first psychology students to do research on Post-Traumatic Stress Disorder (PTSD) following childbirth.
When she finished her dissertation, she began working with children and families, and moms who were suffering from depression.
"Women have a lot of pressure that we put on ourselves, and that society also puts on us," she Allen, who is a mother of three and who has lived in Northbrook with her husband,  and their children for 17 years. "We're always running. We're working and running the house and trying to spend time with our children. It's a lot."
Allen, who has been in private practice in Northbrook for 16 years offers individual, couples and family therapy. In her living room style office with French country decor; which includes yellow painted walls, comfortable furniture, and a huge picture window with a view of large Oak trees, Allen said her goal is for her patients to relax, and feel like they can say anything to her.
"People often say, 'This is going to shock you', and I tell them that in 20 years of being a therapist, nothing shocks me", she said. Allen treats anxiety, worrying and depression caused by issues such as relationships, work stress emotional eating, parenting stress, postpartum depression, and juggling work life balance.
"Stress is very sneaky and you don't realize how much it can affect you" said Allen, who also puts on several workshops throughout the year at various Northbrook venues, including the Northbrook Public Library. "It affects mood, concentration, sex drive, immune system, and the digestive system, and has significant effects on other physical health problems."
Allen said in treating her patients, she doesn't spend time focusing on the past, but instead offers tools to help them cope with present day challenges.
"I help patients get back in control of their lives," Allen said. "By taking control and thinking about things differently, and changing your thoughts and behavior, you can enjoy life more."
A Northbrook mom who chose not to be identified for this article was a patient of Allen's for a year and a half after struggling with anxiety for several years, which intensified after her pregnancies.
"What I love about Sarah is that she is very real and very into practical solutions", she said. "She wasn't there just to listen. She gave me actual strategies for dealing with anxiety".
"I want people to be empowered," Allen said. "Therapy is giving people tools to stop worrying, to sleep better, to eat better and to be healthier and happier."
Dr. Allen has put together a booklet with some strategies that she is always giving to her clients to help them begin to feel less anxiety and to worry less.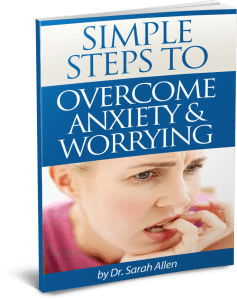 Add your first name and email address in the box below and you will be sent the steps to download your FREE book.


If you have any questions about how to reduce anxiety

please phone her at 847 791-7722 or
email me below