Do Any Of These Thoughts Sound Familiar To You?
"I can't get my thoughts to stop going round and around."

"I wake up with a feeling of dread and I don't know why."

"I can't stop worrying about my children, whether they are doing well and questioning myself about whether I am doing enough to help them."
Worry usually involves thoughts about negative events that might happen in the future or sometimes about things that you have done or said in the past that you wish you had handled differently and now are concerned with what other people think.
What Can I Do Right Now That Will Help?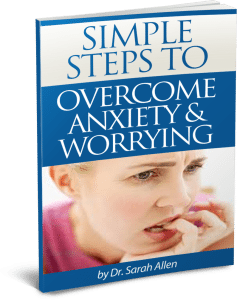 When clients first come in to see me, the main concerns that come up again and again are:
How can I feel less stressed, angry and overwhelmed?

What should I do if I feel panicky?

How can I stop worrying about everything: my children, partner, friends, work, my "to do" list….
So I put together a booklet with some strategies I am always giving to my clients to help them begin to feel less anxiety and to worry less.
I hope that you will find it helpful too.
Add your first name and email address in the box below and you will be sent the steps to download your FREE book.
Please let me know if  you have any questions after reading the booklet. Also, if you would like to read more, I have several blog posts on my blog about anxiety and other issues that can affect the way you feel.
If after reading the booklet you feel ready to start working on reducing your anxiety but need support, I can help you overcome worrying in one-on-one individual counseling sessions.
In a supportive environment with a therapist who has over 20 years experience you can learn how to reduce worrying by:
Learning a variety of relaxation and breathing strategies which can help you reduce your overall levels of stress and help you face anxiety-provoking situations.
Learning how to distinguish between worries that require your attention and worries that are unnecessary.
Learning skills to manage anxious thoughts and to tackle fears that may have been holding you back.
Therapy sessions come with handouts, relaxation CD and strategies and homework tasks between sessions that are individually tailored to your particular worries and concerns.
While all your worries won't disappear, you will be given strategies to manage them better and tools to reduce the impact they have on your life.
If you feel anxiety is standing in the way of you leading the life you want to, call me on 847 791-7722 or via the email form below.
I also share posts about psychological studies and articles on Facebook, Twitter & Google+ so please join me there too!
Right at the top right-hand side of my website there are icons that link to my Facebook, Twitter & Google+ pages. They are business pages so your privacy is protected and I won't be able to see what you post.
Also, if you click on the icons below you will be able to share details about this useful book with your friends.