A new study published in the March issue of the Journal of the American Academy of Child and Adolescent Psychiatry found that cognitive behavioral therapy (CBT) is an effective anxiety treatment for teens, either alone or in combination with the antidepressant sertraline (Zoloft).
"The results of this study provide further evidence of the benefits of cognitive behavioral therapy and SSRI medication, alone or in combination, for treating clinically significant anxiety in children and adolescents", said the study's author, Dr. John Piacentini of the University of California.
Our kids live in an area where there is a high level of achievement, both academic and sports-related, and this brings a lot of stress in to their lives. I have been using cognitive behavioral therapy (CBT) techniques with teens and adults for the last 20 years for anxiety issues relating to test and performance anxiety, social anxiety as well with people who describe themselves as general worriers. I find it by far the most useful treatment for anxiety.
CBT teaches why anxiety happens and gives you tools for dealing with symptoms which helps you feel more in control of your anxiety. Medication can be beneficial in reducing severe anxiety to a level that someone can take on board how to use these techniques and coping strategies and over time, medication can be reduced or stopped as the person feels less anxiety. All medications have some side effects and it is better to learn to use CBT techniques that empower you to manage and reduce your worries.
Anxiety disorders are the most common mental health issue in children and adolescents. It is often overlooked but anxiety can significantly impair children's school, social, and family functioning. Also, if untreated, anxiety can increase the risk of experiencing depression, substance abuse, as well as occupational difficulties in adulthood.
To find out more about coping with anxiety and worrying  download my free booklet Simple Steps To Overcome Anxiety & Worrying  use the sign up form below the book.
When clients first come in to see me, the main concerns that come up again and again are:
How can I feel less stressed, angry and overwhelmed?
What should I do if I feel panicky?
How can I stop worrying about everything on my "to do" list….
So I put together a booklet with some strategies I am always giving to my clients to help them begin to feel less anxiety and to worry less.
I hope that you will find it helpful too.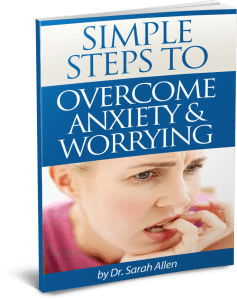 Add your first name and email address in the box below and you will be sent the steps to download your FREE book.
Please let me know if  you have any questions after reading the booklet. Also, if you would like to read more, I have several blog posts on my blog about anxiety and other issues that can affect the way you feel.
If you have any concerns that your teenager has an anxiety disorders contact me at 847 791-7722 or on the form below.