So Why Do We Worry About Things?
Worries bother us. We can't sleep or concentrate because we have pessimistic thoughts going round and around in our head, but in a way, worries make sense as they pull us in to a false sense of feeling in control. We're doing something, even if it is just worrying.
You continue to worry because our mind thinks:
• Maybe I'll find a solution.
• I don't want to overlook anything.
• If I keep thinking a little longer, maybe I'll figure it out.
• I don't want to be surprised. If I consider all the possible outcomes I'll be more in control when something bad happens.
We can have a hard time giving up on our worries because, in a sense, our worries have been working for us.
So now I've pointed that out, let's just stop worrying then! Unfortunately, telling yourself to stop worrying doesn't work for long. You can distract yourself or suppress the thoughts, but they keep popping back up.
Instead I would like you to distinguish between whether your worry is solvable or not.
 This is the number 1 question to ask yourself.
It is helpful to go into a bit more depth and also ask.

Learning To Accept Difficult Feelings When Worry Is Not Solvable
If the problem is in the past then you have to decide whether to say something to the person involved or do nothing and accept what happened. If the worry isn't something you can solve, you have to do nothing and practice acceptance. That doesn't mean it doesn't feel bad though. In such cases, it's important to tune into your emotions. Your brain is so busy going over and over pretend conversations with the person that caused the hurt that it gives a temporary sense of control that something is being done. But it's not really allowing you to get over it and it doesn't allow you time to feel.
The only way out of this is by embracing your feelings. Sometimes we just can't control events and we have to embrace uncertainty. Sometimes we are hurt and angry but there is nothing that can be done, but feel our emotions. You are in control. You are deciding to feel your feelings so you can eventually let it go.
What to Do When the Worry Is Solvable
If the worry is solvable we can use Active Worrying. This is where worrying serves a purpose. For example we worry about a deadline at work and that motivates us to get the project done.
It is really important to differentiate between a worry that can be solved and one that we can't do anything about.
Active worrying involves brainstorming ideas about all the possible solutions you can think of (try not to get hung up on finding a perfect solution though) and then make a plan that focuses on things you have the power to change.
Once you have a plan of action and start doing something about the problem, you'll feel much less worried.
This technique is also very useful when you are stuck in an argument with someone. First identify what is the problem you are arguing about. Then brainstorm all the things you can possible do about the problem and the likely outcomes and then make a joint plan of action.
When clients first come in to see me, the main concerns that come up again and again are:
How can I feel less stressed, angry and overwhelmed?
What should I do if I feel panicky?
How can I stop worrying about everything: my children, partner, friends, work, my "to do" list….
So I put together a booklet with some strategies I am always giving to my clients to help them begin to feel less anxiety and to worry less.
I hope that you will find it helpful too.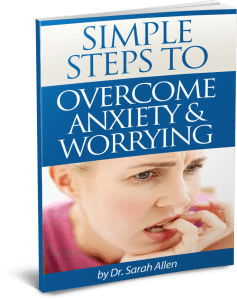 Add your first name and email address in the box below and you will be sent the steps to download your FREE book.
If after reading the booklet you feel ready to start working on reducing your anxiety but need support, I can help you overcome worrying in one-on-one individual counseling sessions.
In a supportive environment with a therapist who has over 20 years experience you can learn how to reduce worrying by:
Learning a variety of relaxation and breathing strategies which can help you reduce your overall levels of stress and help you face anxiety-provoking situations.
Learning how to distinguish between worries that require your attention and worries that are unnecessary.
Learning skills to manage anxious thoughts and to tackle fears that may have been holding you back.While all your worries won't disappear, you will be given strategies to manage them better and tools to reduce the impact they have on your life.

If you feel anxiety is standing in the way of you leading the life you want to, call me on 847 791-7722 or via the email form below. I see clients in my Northbrook office or if it is more convenience, via telephone or internet sessions
 If you found this information helpful please share it using one of the social media icons below.
If you would like to see my future blog posts please go to the very top of my website and link to me by "Liking" my Facebook page or join me on Twitter, Google+ or LinkedIn.