Are you spending a lot of time worrying about your relationships, your health, what you said or did or perhaps what might happen?
Excessive worrying can lead to avoiding or not being able to fully enjoy various events and situations, not being able to make even the simplest decision, and feeling physically tense and uneasy a lot of the time.
Worrying is a natural part of life but sometimes it can get out of hand and negatively affect our quality of life.
Dr. Allen's 6 Week Structured 'How To Control Worrying' Program Teaches You Strategies To Take Back Your Life!
The How To Control Worrying  program consists of 6 weekly individual sessions with Dr. Sarah Allen that are tailored to your particular worries and utilize Cognitive Behavior Therapy (CBT) techniques, which many research studies show is an very effective treatment for anxiety.
In a supportive environment with a therapist who has over 20 years experience you can learn how to reduce worrying by:
Learning a variety of relaxation and breathing strategies which can help you reduce your overall levels of stress and help you face anxiety-provoking situations.
Learning how to distinguish between worries that require your attention and worries that are unnecessary.
Learning skills to manage anxious thoughts and to tackle fears that may have been holding you back.
The program comes with handouts, relaxation CD and strategies and homework tasks between sessions that are individually tailored to your particular worries and concerns.
While all your worries won't disappear, you will be given strategies to manage them better and tools to reduce the impact they have on your life.
By signing up for the 6 week program rather than regular sessions you save $225.
Out of network health insurance can also be used to offset the cost.
Sessions are scheduled at your convenience in my Northbrook office or via Skype or Telephone.
Stop worrying and take back your life!
Contact Dr. Allen today at 847 791-7722 or on the form below for more details.
Testimonials
When I started seeing you for therapy I felt so overwhelmed. Thank you so much for all your help. It has really helped me gain a better perspective. I am now a role model for my children and help them worry less about things by teaching them the tools you taught me – Margaret R.
When I need to refer any of my patients for talk therapy I immediately think of Dr. Allen as she is wonderful at helping people with severe and complex issues really get to the root of their problems. She is very caring and knowledgeable and I have found her extensive experience really helps people to change their lives for the better – Teresa Propowski, MD.
Last year I was so crippled by anxiety and panic attacks and I didn't believe that anything or anyone would be able to help me. Since seeing you my life has changed forever and I am finally turning into the person that I always wanted to be…and the person I never thought I could be. You will be the person I call if I start to feel that way again – Wendy T.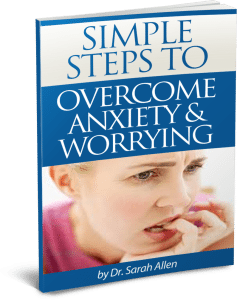 Not quite ready to sign up for the program yet?
Please download my free booklet which has many useful strategies to reduce worry by filling out your name and email address below.
It is helpful to have support when trying to learn ways of improving your life so after you have read it, let me know if you have an questions or if I can be of any help.