There are many benefits to being female, but sometimes hormonal and lifespan transitions can lead us to experience difficult emotional issues.
There are many times during a woman's life when issues relating to reproduction and hormones can throw us for a loop. It's not always easy being female! These are times in a woman's life when she might typically need extra support:
When we have difficulty trying to conceive, we often struggling with feelings of sadness, hopelessness, fear and anxiety.
When we experience a miscarriage, stillbirth, or other neonatal loss, it is often hard to heal from the loss or we may feel disconnected from our partner, family and friends.
Sometimes pregnancy and the year following childbirth are not at all how we expected it to be. Many women feel sad, anxious, and irritable. This was not how motherhood is meant to be! Pregnancy and Postpartum Mood disorders are very common though and affect between 15 – 20 % of mothers. This is the number of women reporting experiencing these feeling. Imagine how many more women are feeling this way and are not talking about it.
Traumatic labor is more common that you might expect. Birth is one of the most physically and mentally challenging things a woman experiences, and sometimes our childbirth experience doesn't go the way we hoped or expected. Sometimes the labor experience is traumatic. We feel that either our life or the baby's life was in danger. I was a pioneer in childbirth related trauma research and I can help you process your feelings and emotions and move forward from the experience.
Becoming a mother is a huge responsibility. Are you considering starting a family, and want to explore what this would mean for your relationship, career, or sense of self?
Perimenopause and menopause can occur over a long period of time. Perhaps you are passed worrying about having more children but your hormones have started to cause night sweats, insomnia and your sex drive is zero. You are experiencing such wild swings in mood that your partner and children are walking on eggshells around you. If so, I can help.
I provide counseling and support for women's issues such as:
Premenstrual disorder
Pregnancy anxiety &/ or depression
Postpartum anxiety &/ or depression
Traumatic labor experience
Miscarriage/ infant loss
Infertility
Perimenopause
Menopause
For twenty years I have helped women look after themselves while they develop practical tools to feel back in control. We all need a little support sometimes. You don't need to feel alone.
Here Are Some Concerns I Have Heard Women Say About Getting Help…
I already feel like I don't have enough hours in the day to take care of everything I have to do. I just don't see how I could fit therapy in.
Although you are extremely busy and overwhelmed right now, it's very important that you make time for yourself and your needs in order to be able to enjoy your life. Specialized therapy will offer you the support you need to get through this and will help you move on with your life. You don't need to be stuck with these difficult feelings. Women are usually the cornerstone of their family. We all know the saying "When Mama ain't happy, nobody's happy" and it's true. If you take the time for yourself to improve your mood, your partner and your children reap the benefits too.
Seeing A Therapist Is A Sign Of Weakness
"I should know how to do all this", "Other women seem to be coping!" The truth is, it takes a lot of courage to reach out for help. ?Sometimes people just need a few sessions to discuss a specific concern and get back on track. Others need more time because they are dealing with multiple issues. ? In most cases counseling is reimbursed by your medical insurance through out of network benefits.
What Can I Do Right Now That Will Help?
During therapy we can target particular stressors that effect women at particular times of their life, such as those mentioned above, but there are also some common concerns that come up again and again are:
 How can I feel less stressed, angry and overwhelmed?
 How can I improve my relationships?
 How can I stop worrying about everything: my children, partner, friends, work, my "to do" list….
So I put together a booklet with some strategies I am always saying to my clients to help them begin to improve their mood. I hope that you will find it helpful too.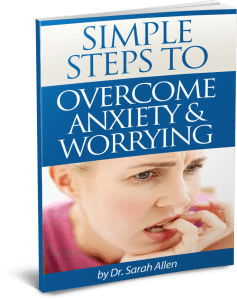 I have written five other booklets that you might find interesting.
 Simple Steps To Overcome Depression, Simple Steps To Overcome Emotional Eating, Guide To Pregnancy & Postpartum Issues, Simple Steps To Overcome Anxiety and How To Stop Arguing With Your Child
See each specific webpage to download one or many.
Also, there are several Blog Posts on my website about issues that can affect women throughout their life.
If you have any questions after reading the booklet or want to set up an appointment please contact me at 847 791-7722 or on the form below.
 I also share posts about psychological studies and articles on Facebook, Twitter & Google+ so please join me there too!
At the top right hand corner of the page there are icons that link to my Facebook, Twitter & Google+ pages. They are business pages so your privacy is protected and I won't be able to see what you post.