We have all heard the term emotional eating but what does it actually mean?
Emotional eating is a term used when your intake of food is affected by your emotions in some way. It might be that you eat more food than you need to quell hunger or that there are certain foods that you feel comforted by when you eat them. If it only happens occasionally then there isn't really a problem, but when it starts to becomes a go-to way to soothe emotions and that is when it becomes a struggle.

Emotional eating could occur you need comfort after a stressful day with a demanding boss or arguing children and there isn't anyone you think can give you the support you need right then. It is also a way to push down fears or anger. It is a convenient distraction and occupies us so we don't need to actively deal with the difficulties we face.
Emotional eating is usually rushed and involves way too much food than our body needs. It is used to help us self soothe and this would be fine if doing that didn't have negative consequences, such as not really sorting out the underlying problem, weight gain or feelings of shame and guilt about the uncontrollable nature of that type of bingeing.
To find out more about emotional eating and to download the free booklet Simple Steps To Overcome Emotional Eating (which includes questionnaires to find out what if you are an emotional eater and if yes, type of emotional eater you are) use the sign up form below the book.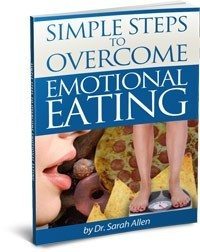 Dr. Sarah Allen specializes in empowering women to live the life they want.
She sees clients in her Northbrook office or via telephone or Skype sessions.
Visit www.drsarahallen.com for more blog posts on a variety of issues relevant to women.
She can also be reached at (847) 791-7722 or by the form below.