Do you feel persistent sadness and frequently overwhelmed?
Are you tired and lacking in motivation to do anything?
Do you frequently feel guilty or view everything as pretty hopeless?
These feelings may have crept up on you over time or might be the result of a difficult situation or transition you find yourself in at the moment.
Everyone has feelings of being blue or sad occasionally but if it has persisted for more than two weeks it is most likely that you are experiencing depression.
What Can I Do Right Now That Will Help?
When you feel sad and depressed, life's challenges, big or small, are a lot harder to manage.
When clients first come in to see me they want to know how to feel less sad, unmotivated, angry and worried. They are often overwhelmed and not sure where to begin so I put together this booklet to highlight four areas in our lives that we can start to make changes and they will help you move in the right direction:
Section 1 – discusses symptoms and different types of depression so you know what you are dealing with.
Section 2 – highlights small things you can do which added together can result in big changes to your mood.
Section 3 – discusses the huge connection between our physical health and our emotional health and how it is so important to take the time to look after yourself. It also offers many suggestions on how to do it.
Section 4 – studies have shown that cognitive therapy works as well as antidepressants in helping people with mild to moderate depression and is useful together with medication for severe depression. This section explains what cognitive therapy is and why the relationship between our thoughts and mood is so crucial.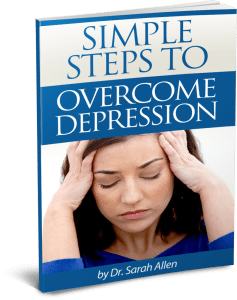 I put together this booklet with strategies I am always giving to my clients firstly, because they help and secondly, so clients can have something handy to refer to between sessions.
I am a big believer in giving handouts about the strategies we talk about during sessions because I think it is hard to remember everything. I also give new clients a folder so they will be able to keep all this information in one place. A sort of emotional health toolbox to get out and read when you need it.
Not everyone is able to come and to see me though so I decided to make these strategies available to everyone and I hope you find this booklet helpful too. I think it is a great way to get started but it is hard to do this on your own so please contact me with any questions you may have after reading it.
Add your first name and email in the box below and you will be sent the steps to download your FREE book and begin your journey to feeling better.
Please call 847 791-7722 or email me on the form below if you have any questions.
Also, I have several blog posts on my blog about depression and other issues that can affect the way you feel.
I also share posts about psychological studies and articles on Facebook, Twitter & Google+ so please join me there too!
Right at the top right-hand side of my website there are icons that link to my Facebook, Twitter & Google+ pages. They are business pages so your privacy is protected and I won't be able to see what you post.
Also, if you click on the icons below you will be able to share details about this useful book with your friends.